MAX TRACK TIME
Because Track Time Matters
Our philosophy is simple: Make testing as easy and painless as possible for every driver.
That's why we've worked hard to secure great tracks on convenient dates and provide all the amenities allowing your test to be as focused and productive as possible.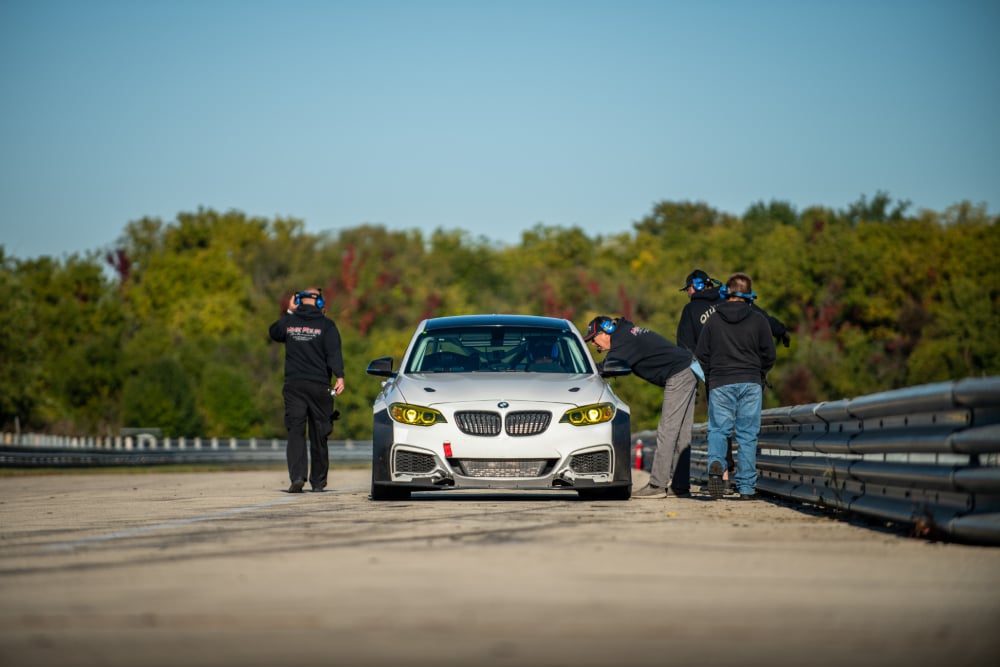 We are the ultimate testing experience. We not only host events at some of the world's most exclusive venues, we also provide an exclusive experience to make your time at the track productive and enjoyable.
Testing with us is the best way to get your seat time. We carefully schedule our events to minimize disruptions to a part-time driver's regular job.
To minimize traffic and maximize on-track time, we limit entries to 25 cars at our tests in order to maintain an open track all day.
Testing just got better. We make it easy, with our world-class hospitality package that includes garage access, food and beverage service throughout your test day, and so much more.
FORMS
Fill Out Before Arriving at the Track
All drivers attending the event are required to complete the following forms. Failure to complete the below forms will result in loss of driving time.
*Each driver's name must be included on the original vehicle registration on Motorsportreg. If your name is not included on the original registration, please contact info@maxtracktime.com*
Participant Waiver
*The Minor waiver is for drivers 17 years of age and younger. The minor must be accompanied by a parent/guardian at the event. If a parent/guardian is not able to attend, the form must be signed and notarized prior to arrival.*
What Are the Driver Requirements?
All drivers must have a valid racing license or have previous and verifiable open-track/open-passing experience. First-time registrants will be contacted to verify driver(s) experience level. All drivers must wear the appropriate gear for track driving. For race cars and time trial cars, this includes: SA-2015/FIA8860-2010 or newer helmet, a HANS device, a racing suit, racing gloves, balaclava, and racing shoes & socks. For drivers of track prepared street cars, we require an SA-2015/FIA8860-2010 or newer helmet, a HANS device appropriate for your seat belt configuration, long pants, and closed toe shoes.
On track, drivers are expected to follow the Max Track Time Code of Conduct. These expectations will be outlined during each event's drivers meeting and can be reviewed by following the above link.
What Are the Car Requirements?
Cars must be closed wheels. No formula cars are allowed unless specified on the event registration. Participants are responsible for preparing their vehicle to meet the rigors of track driving and must be prepared to the minimum standards of our Tech Sheet. Max Track Time reserves the right to re-inspect any vehicle at any event at any time and deny participation if a vehicle is deemed unsafe or improperly prepared. No refund will be given if a participant's vehicle is not properly prepared.
Can Minors Drive?
Yes, minors aged 16-17 are permitted to drive provided they have filled out our minor waiver. A legal parent or guardian must either be present, or have the waiver signed, notarized, and presented at the event for the minor to participate. Click here to view the Minor Waiver
Can There Be Multiple Drivers Per Car?
Yes. With these testing days, teams have no limit on the number of drivers they are allowed to bring. We request all drivers' names be included when completing registration. Any last-minute driver additions should be emailed to info@maxtracktime.com.
Are There Run Groups?
No. Max Track Time exclusively hosts open track, open passing testing events to provide the maximum available on-track time for all our participants.
What Are the Rules for Passing?
Max Track Time is an open-passing organization. This means no point-by's or passing zones are required. Given this is a non-competitive event, we ask drivers work with each other and use their best judgement to avoid high-risk passing situations. Expectations for passing can be reviewed in the Driver Code of Conduct page. Event specific expectations will be reviewed during the drivers meeting at each event.
Can We Setup Our Crew on Pit Lane?
Yes. Part of the benefit of testing is being able to practice driver changes, tire changes, fueling, etc. in an environment that accurately simulates race day. Because of this, Max Track Time ensures that teams have all the same pit access they would during a race weekend.
Can I Bring More Than One Car?
Yes, the registration page will allow for one registrant to register up to five cars. If you have more than five cars you would like to register, you can either register with two MotorsportReg accounts, or contact info@maxtracktime.com to add additional cars.
What Are My Food and Beverage Options?
At each Max Track Time event, we have a designated hospitality area where breakfast, lunch, and an all-day beverage service is available. A light breakfast will be served during the first hour of each event. A warm buffet style lunch will be provided between 11:30 AM and 1:30 PM.
Can I Access the Paddock the Night Before the Event?
This will depend on the willingness the track, but typically, we work with the track to ensure all teams can load in the evening before the event. Specific details will be provided to the main registered user via email two weeks prior to the first day of the event. Any questions about load-in or paddock access can be directed to info@maxtracktime.com
Is Garage Space Available?
Yes, tracks that have garage space will be able to have spots used. First come first serve.